Nova Induction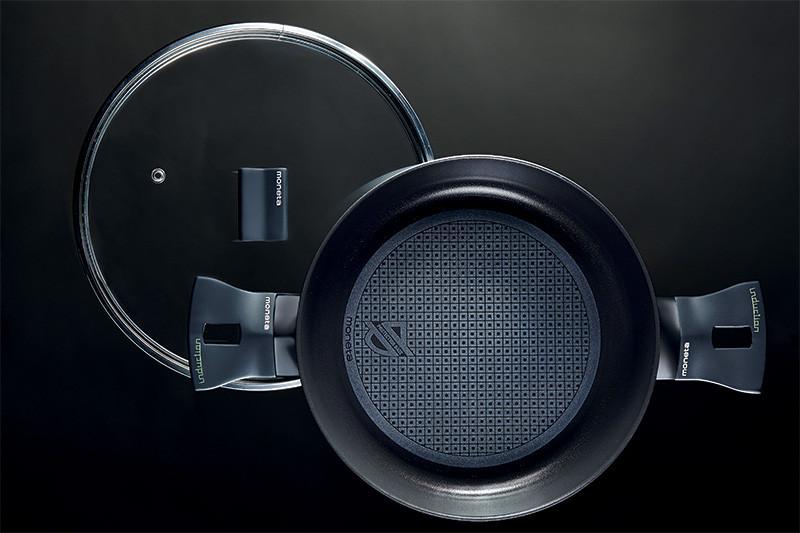 WAREHOUSE SALE - LAST CHANCE

Items with price ending in .47 designate Last Chance and all sales are final.

No other discounts or coupons are eligible on Last Chance items. 
NOVA INDUCTION.  All the innovative technologies by MONETA in one product line.  Design, technology, performance:  NOVA INDUCTION recaptures everything that contemporary cooking demands.   Under a minimalist appeal, NOVA INDUCTION features very innovative technological characteristics such as:   PROTECTION BASE, the technosurface proprietary to MONETA that shields wear of time; NEW INDUCTION BASE, optimizes energy efficiency; and TWIN BLOCK that secures the handle fixing with a double screw.  PROTECTION BASE is a proprietary process of an entirely new concept.  It consists of a combination between technosurfaces and layers of microcrystals.  The end result is remarkable increase of durability with anti-adhesive (non-stick) properties.  The INTERIOR COATING features non-stick release, resistance to abrasion, easy-clean and durability.  The stick and side handles are soft-touch bakelite and ergonomic in design.  Exterior coating is beautiful black satin non-stick.  Body is 3.5mm thick.  NOVA INDUCTION  is universally compatible with all cooking surfaces, including induction ranges.   NOVA INDUCTION comes with a Limited Lifetime Household Warranty.  MADE IN ITALY
Our non-stick cookware features a PTFE non-stick coating. For more information on PTFE click here .
Nova Induction